Asakusa and Senso-ji
※ This article discusses our third day in Tokyo, the 19th of March 2017.
This day we met some other Japanese friends. Together we scheduled to explore the Asakusa district, the Senso-ji temple and Nakamise-dori this day. Optionally, we wanted to go bowling.
Asakusa is the only place in Tokyo allowed to operate jinrickshaw ( 人力車 , じんりきしゃ). The first Kanji in its name is a person/human. These rickshaws are operated by humans and therefore "pulled rickshaws". They certainly look like a lot of fun, but they are also expensive. For two people and 10 minutes, this is about 3000 Yen. Take a look Wikipedia's video file to see it in action.
A friend of our Japanese friend works as a jinrickshaw guide. He shared some tips for sightseeing. We visited Kaminarimon, the Thunder Gate. This gate is the entrance of Sensōji Temple. In the center of the gate, a huge chōchin is displayed. It gives the gate a unique resemblance.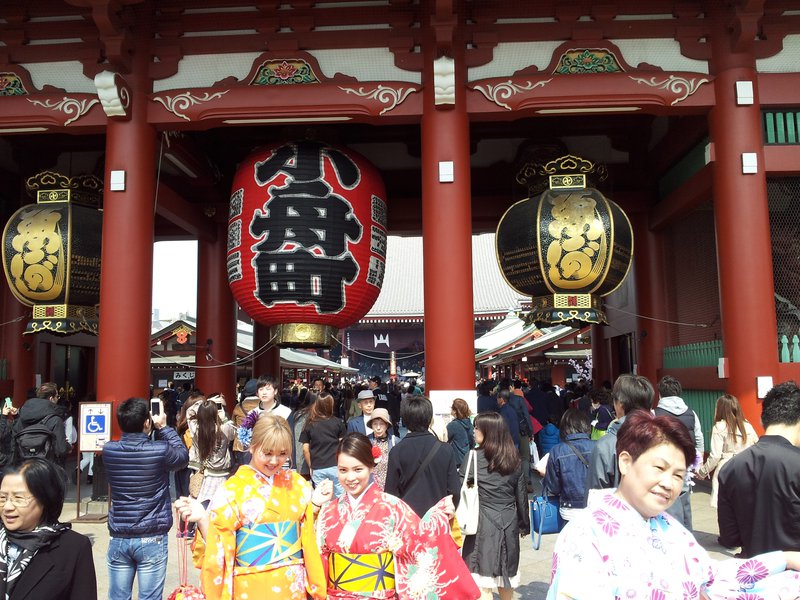 We entered the temple grounds along Nakamise-dori, the shopping street. It connects the gate with the temple. On this street, you can buy many tourist goods, but also nice snacks. Martina bought Volleyball key straps, I took a look at some Zōri. At the end of the street, we arrived at Sensō-ji temple. In front of it, a large pot of sand was available for tourists to put incense sticks inside. It smelled sooo good. Inside the temple it is amazing how many people pray at this location. We joined in. In general, you wash your hands first in front of the Shrine. Then you enter the shrine and throw some money into the wooden box. Then you are allowed to swing the large rope resulting in ringing a bell. Then you pray with the procedure clap-clap-bow-clap-clap. However, at Sensō-ji temple there is no rope to swing. Because there are so many people, they cannot get in front of the Shrine to pray. So they stay aside or behind and throw the money above people's heads into the extraordinary large wooden box. This was amazing.
Orthogonal to Nakamise-dori, another street guides tourists to shops. I asked our friends to go there as well. It features similar shops, but probably more food booths than Nakamise-dori including restaurants. One shop featured caricaturists drawing pictures of people. I liked the drawings very much.
We went to eat lunch at a nearby and very old tempura restaurant. We had to wait about 30 minutes to get a seat. Our friends tried hard to find something vegetarian, but this is very difficult in Japan. I suggested Tempura, because sometimes Tempura is made of vegetables. However, it is more popular to make it with seafood. So most of the tempura, I ordered, was non-vegetarian and Martina helped me out eating it.
We went back to Nakamise-dori and in a side street, we saw a group of children in costumes promoting their Kabuki theatre. We also came across the ROX dome batting stadium. Batting is an important part of Baseball and therefore skills are important. Inside a hall, a machine throws a ball towards you and your goal is to bat the ball to a homerun (hence batting is towards a plate in the air about 12 meters away from you). The speed of the ball and its height can be configured by some buttons. I had lots of fun.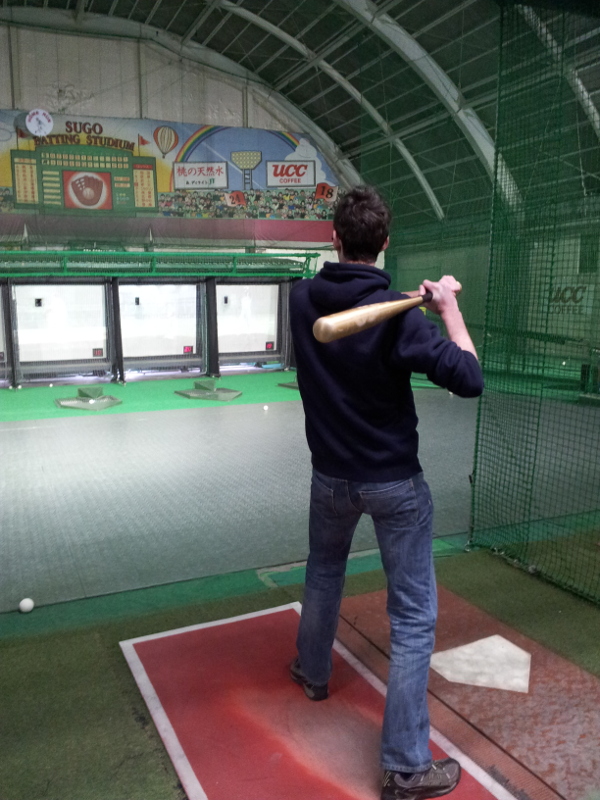 We drank a McDonald milkshake and another Japanese friend joined in.
Finally, we went bowling at Ivy Bowl Mukojima (outside Asakusa). One friend was very good at spinning the bowling ball before it hits the pins. First, I used my usual straight technique, but then we tried to learn the technique as well. After two rounds, my overall performance was not that great, but I was happy to try something new.
To finalize the evening, we went to Domino's Pizza. On the homepage, you will find a large list of countries hosting Domino's Pizza branches, but we don't have it in Austria. So this was a special event for us though it is not the first time I ate a pizza of this company. I have to point out that the pizza is very thick and a lot of varieties are offered, but it is also very expensive.
We said goodbye to each other and returned back home.
Conclusion: Our Japanese friends are super-nice and had lots of ideas and thoughts to share. Thank you for this awesome day in Asakusa!
Also in general: Asakusa is a must-visit place in Tōkyō!