Buying a mobile phone
※ This article discusses an event on the 14th of November 2016.
On Monday, we met Martina's tutor. We asked him to help us with the National Pension System. We received a bill via email for the first month living in Kobe. We are required to pay 16000 Yen into the Pension system as regular resident in Japan. As student this makes up 20% of our 80000 Yen scholarship. Not impossible, but pretty high.
If you contribute to the system, this might become advantageous in the future, if you consider living in Japan in your years of retirement. The government is currently reducing the minimum eligibility period from 25 years to 10 years. So the situation improved for gaijin (jap. foreigners) a lot recently. Considering 25 years instead of 10 years, the uncertainty related to living in Japan eventually and the amount of the scholarship, we decided not to pay into the National Pension system.
We went to the municipal office to declare our status as student (see Special Payment System for Students). Our dormitory manager told us that students residing up to 6 months ignore the bills and the government will recognize eventually the intent. But students, like us, residing a year should declare their status explicitly. We went to the office and it took less than 2 minutes. The staff member took note of our residence card and passport and we should not receive bills until April. Then we shall go the office again to declare our status for the second half of the year.
So the whole procedure was a bit tedious, but acceptable. Martina and I wanted to go mobile phone shopping. Martina initially had an electronics shop to the south of Sannomiya in mind. But I could not find its branch online. Discussing this issue our tutor helped us out and guided us to an electronics shop commonly used by international students.
Device selection
At the shop, the staff only spoke Japanese. Luckily enough our tutor still helped us out. We asked for smart phones and they offered plans for the iPhone S6. I explicitly mentioned that I will only accept Android phones and Martina joined this request. The selection of devices was pretty small:
Sony Xperia X

Sony Xperia SX

Samsung Galaxy 6

DIGNO C

Some Aquos smart phone (I don't remember the model)
We ruled DIGNO C out, because it was locked and they told us we cannot use it in Europe. They showed us the data about the devices and we were asked to decide. In the meanwhile another staff member showed up familiar with English language. It was nice that they tried to make communication with us easier, but she could not really contribute to our discussion and Martina's tutor retained our most valuable translator. The devices had a constant price of 93096 Yen (~800 EUR) and we had to decide. I was unhappy about spending 800 EUR on a device I cannot read about in detail (the technical details were in Japanese and I didn't want to ask to translate every detail). Furthermore I assume using the phone in Europe might also yield further problems (exchange of the SIM card, etc). I wanted to back off and asked Martina to decide upon a smart phone for her. She has a Sony Xperia already and the Sony Xperia SX seemed most appealing to her. But she was also uncertain. We claimed the Sony Xperia SX was interesting for us and asked for possible plans for our 1 year stay in Japan.
Mobile phone plans
They immediately told us the price of 3240 Yen per month (~28 EUR). We can make free calls in Japan and have 2 GB of mobile data available. We totally forgot to ask about text messages. I asked about 1 GB and other plans, but it seemed to me these are fixed packages and there is little variety. 93096 + 3240 * 11 makes 128736 Yen. So I would spend roughly EUR for communication. It sounded like a plan, but because I am not sure about the device, I didn't want to decide now. We told Martina's tutor, we understand the conditions and the price, but the monthly costs are high compared to Japan. So I don't want to make an immediate decision. He spoke to the staff members (I am not sure how he expressed this feeling of mine) and they considered alternatives.
The cheap alternative
They showed us an alternative smart phone; FREETEL Samurai Rei. They told us it is much cheaper than the Aquos phone, because it was manufactured in Japan. They told us if we choose this smart phone they can provide a plan costing 39000 + 1980 * 11 = 60780 Yen with the same conditions. This seemed a more reasonable price for our requirements. They rushed to some booth again and suddenly they told us that they can offer this smart phone for 119 Yen (1 EUR) and I have to pay 1980 Yen monthly. However, to terminate the contract after 11 months, we have to pay a cancellation fee of 15000 Yen. Martina agreed, but I hesitated. They showed me that this is a special offer from 1st to 14th of November 2016. So by tomorrow I would have to pay ~22700 Yen instead of 119 Yen. This way the price became more trustworthy and I agreed as well. So the entire plan included:
Paying 119 Yen now [constant]

Paying 4560 Yen administrative free, I did not learn about that until they asked for our credit card [constant]]

Paying 15000 Yen cancellation fee [constant]

Paying 3200 Yen for a mobile phone case voluntarily reduced by a voucher of 2500 Yen for signing the contract [constant]

Paying 1980 Yen monthly [variable] for

300 free calls in Japan up to 10 minutes per month

2 GB of mobile data per month
This makes approximate costs of about 42159 Yen (~359 EUR) in the 11 months to come. The next problem was that I don't have a credit card right now in Japan. Besides our residence card and passport, this was a requirement for registration. Again our tutor helped us out. He offered his credit card and next week it is no problem to switch to payment by cash card and the credit card will be deregistered.
So in conclusion, on Monday with the very helpful support of Martina's tutor, we got FREETEL Samurai Reis for both of us, signed a contract with Y!mobile and got a welcome package: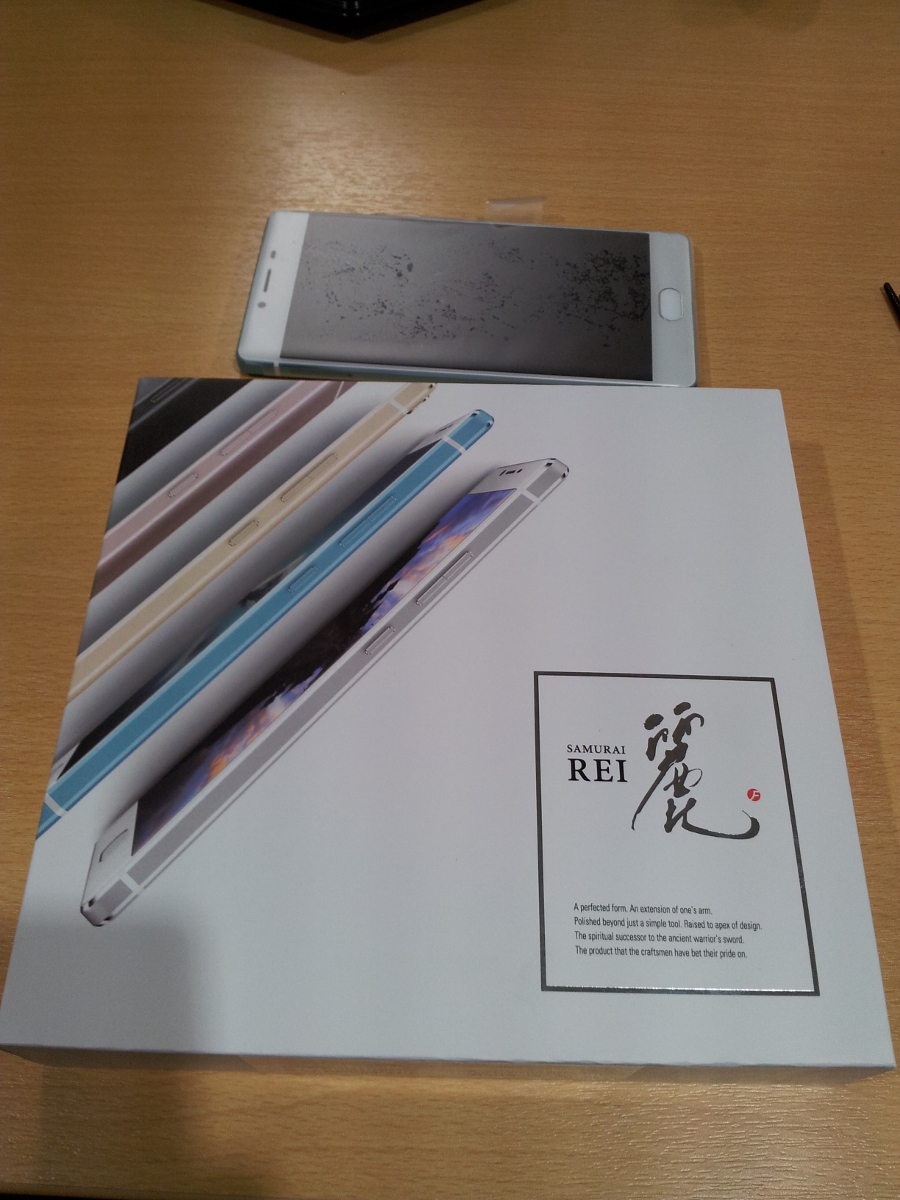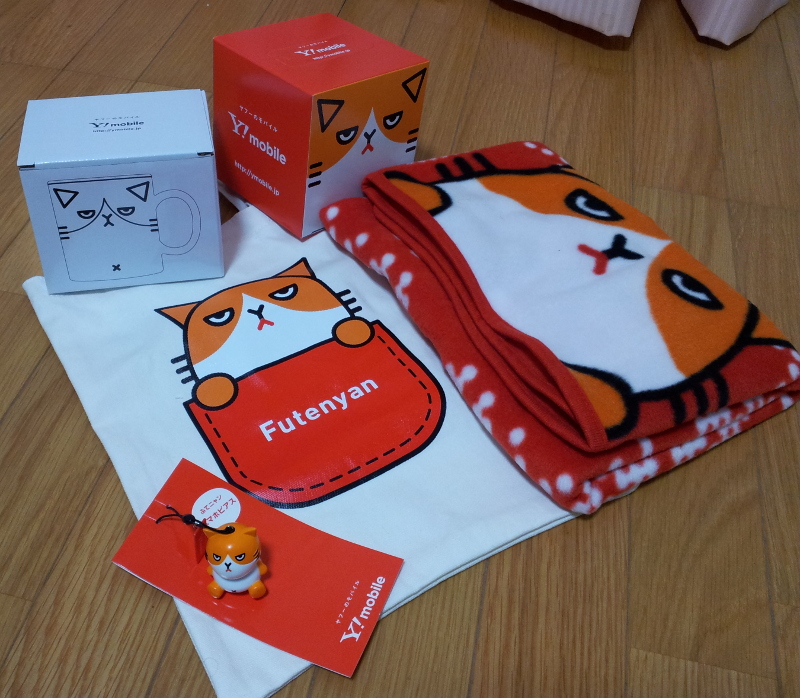 We invited Martina's tutor for dinner. This way we had another opportunity to ask a Japanese about Japanese customs. Martina's tutor is a really chilly guy. One week later we had to return to the shop again. As far as we found out, we changed our payments from credit card to cash card (= ATM card) and switched from plan M (medium-prized) to plan S (small-prized). Those things were not possible at our first registration visit.
BTW, the electronics store was a branch of LABI close to Sannomiya and our mobile phone provider is "Y!mobile", a part of SoftBank (NTT docomo and au are alternatives).