Aikido Harugasshuku, Part 2
※ This article discusses the later days of the training camp; 9th of March to 12th of March 2017.
The training was harsh. I don't mean running in the morning, callisthenics or Aikido itself. But the temperature was freaking low. We practice inside the Dojo at temperatures very similar to outside. Remember that Japanese house typically have no heating isolation. The heater was used only occassionally and raise the temperature of the large room by 1-2 degrees. Outside, it had between 1°C and 5°C degrees after sunset. During the day, the temperatures reached up to 12°C. I was waiting for the following days. The weather forecast indicated warmer days. Anyways, the training was harsh, because I always struggled to keep my body warm, but once I had to practice my enbu on my own or follow the formal procedures, I moved little and my body got completely cold. At the night of 8th of March, we have been the last ones scheduled for the bath and training at night totally freezed my body. I was happy, that an awesome Aikidoka trained us some Jo techniques, but I was completely cold afterwards and just happily looking forward to a warm bath.
On Thursday, we have been told to do 10,000 cuts with the bokken. This would have taken an estimated 5 hours. I think it is unnecessary, but compared to other students, I don't feel pain when doing a lot of cuts. In the morning, the plan changed. The captain solved the mystery and we actually had a day off. No formal practice today. I ran 2 kilometers anyways (now I had the opportunity to take photos casually) and after breakfast our leisure time activities began.
We took a ride to Kankakei. We did a small hike, more like a walk. Being in the nature was beautiful and having a new view to the north of Shodoushima (where we live), was pleasant. I enjoyed it very much.

We went to the beach. In the South-West of the island, the "Angel Road" can be found. It is a thin path between the beach and connected islands. This path might be flooded depending on ebb and flow. My trekking shoes kept me dry, but we basically walked through water to cross the Angel Road. We reached the next rock islands close to the beach and it was fun to climb along the rocks and see how many rocks we can master. I think it was enjoyable for everyone.

We stopped briefly to eat some Udon. I ate one together with an Onsen Tamago (an egg half-boiled in an onsen).

We went to サン・オリーブ 温泉 (Saint Olive Onsen). Shodoushima is famous for its olive product and in this ressort, you can buy olive merchandise and products. The ressort also features a hotel, wellness area and onsen. This was significantly larger than Arima Onsen. It featured a sauna and also a pool with 16.4°C to cool down. Another pool had a whirlpool built in and I also liked the pool outside with a beautiful view. I enjoyed the relaxation factor, but got in a hurry talking to a Japanese person. His friend and him got curious why a foreigners is in the onsen. He spoke very good English and asked me about Aikidou and Koube University. I recognized that my body was not able to enjoy the onsen fully and was quite exhausted.

We bought some groceries for the last party. I bought two bottles of waters, because my throat was getting more and more dry.
In the evening, we returned, went for dinner in our hotel and practiced as usual afterwards. The usual night bath felt strange, because we there was not much time gap between the bath and the onsen.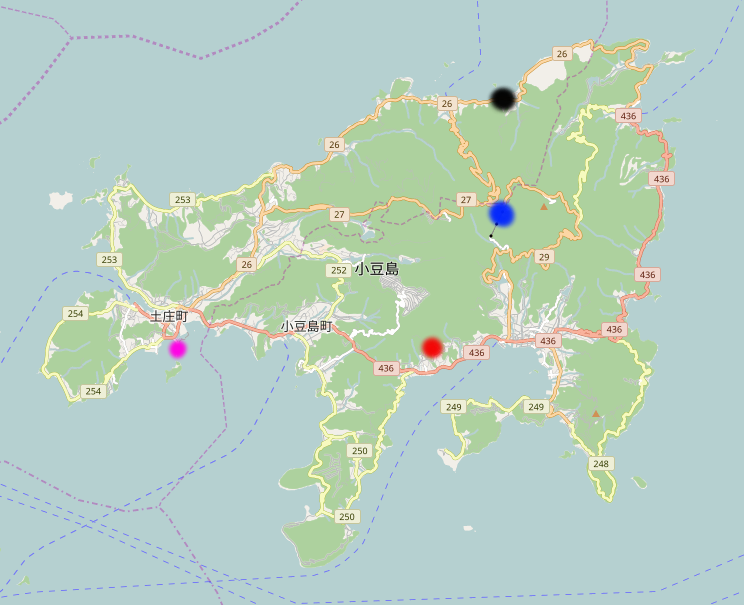 In this map, you can see the locations of the hotel (black), the hiking place Kankakei (blue), the beach (purple) and the Onsen (red).
I liked the day trip, but in the evening, I recognized that I caught a cold. Due to the cold during the training in the previous days, my body was certainly unhappy about the situation and got knocked down. Handkerchiefs, a surgical mask and warm clothes got important.
In the following, on Friday, I failed to run 2 kilometers, because my nose did not allow me to breath properly. I told the captain and instead of attending practice, I watched it and took photos. I got scolded for drinking inside the Dojo and one colleague pointed out that I must not spread my legs and always stay in Agura, better known as cross-legged sitting. After lunch, I slept for 2 hours to regain energy. It was very pleasant and I joined practice afterwards. However, with the surgical mask, it is more difficult to breath. So I didn't work with 100% of my energy.
On Saturday, an important day came. At 10:00, we performed our Enbu. My training, on the previous days, indicated that I am terrible at remembering my techniques. But I managed to do all 15 techniques in the correct order. Sadly, memorization took so much effort, that we spent very little time with other details to improve my enbu. Enbus of other members were also impressive. After lunch, the last official training took place. It was a significant one. It only took 1 hour, but was my about 1.2 the usual speed. It was very exhausting and finally we did Sumiotoshi in Hamnihantachi for 2 minutes. This totally gave me the rest with my surgical mask. However, it was a nice finish.
In the Saturday evening, the party took place. We had to take care that OBs glasses do not become empty and had to fill them up before this happens. This is a terrible task for a short-sighted person without glasses. Later in the evening, we presented our gags. The first-year students devised a play based on The Tale of the Bamboo Cutter. I had a minor role to play one anime reference and finally do a gag. Originally, I wanted to do my gag in Japanese, but Japanese people neither know Lightbulb jokes nor was I fast enough reading it in Japanese the first time. I didn't convince my friends and presented it in English with a lot of gestures. Here it is:
Q: How many Russians do you need to change a light bulb?
A: Ehhh??? KGB? That's a state secret!
Q: How many Germans do you need to change a light bulb?
A: No-one available. They are all busy brewing beer.
Q: How many Japanese do you need to change a light bulb?
A: Does not matter. They are all too short.
— 3 lightbulb jokes
Originally, I only wanted to the third. This one is funny and appropriate, because in Aikidou everyone points out how tall I am. But because they don't know light bulb jokes, I added the other two to introduce them to the scheme. In the end, the play provided some laughs and therefore met its goal. Afterwards we gave presents to the third-year students. I contributed Austrian chocolate (Zotter chocolate and Manner Schnitten). We bought the other presents in Osaka about one week before we went to Shodoshima.
After the party, some students were knocked out by alcohol. One even vomitted twice and we took care, they get home safely.
On Sunday, a new team took over the club. Apparently, captain, vice-captain and manager are responsible only for one year. They are succeeded by the previous second-year students. So new roles were assigned and the old team gave their final speech. Tears were shed and dramatic scenes were played. One student screamingly rushed to the old captain and cried that he does not want him to finish his term. To me, these scenes felt overly dramatic, but I have to make two remarks: First, the team spends more time with its members than in Austria and therefore is emotionally more attached to it and secondly, cultural differences might just play a major role in this, but I cannot judge on that.
It turns out, that I am now a second-year student in Aikidou. This means they assigned me new duties (i.e. folding Hakama of third-year students), which I am not necessarily happy about.
The new captain lead a final training on Sunday, because we ate lunch, packed our stuff and got back to Honshu. The old team apparently stayed on the island to celebrate a little bit longer on their own and we left towards Himeji. When the ferry left, we threw colored tape towards them to celebrate them. They collected the tape afterwards to avoid pollution.
So what is my conclusion?
It was very Japanese style.

Enbu are very good to improve my jiyūwaza skills.

With the formal procedures, I got to the very limits of my patience. I lost much training time, because of the formalities and I am not sure this is politeness policy, religion or nationalism. Borders seem to diminish.

Sport training camps are a perfect way to improve your Japanese, do something healthy during vacation time and learn about Japanese culture.

Training in the cold reduced my training capabilities a lot.
Let's get back to Kobe. Martina is waiting there!