Himeji Castle
※ This article discusses Sunday, 4th of December 2016.
On Saturday we have been on an international student event. We introduced our dish to one tutor and he organized all ingredients for the event to come. At the event we assigned one role to every person; a "sensei" (teacher) or "gakusei" (student, participant). Sensei teach how to cook a dish to their gakusei. Nobody told me about the sensei-gakusei concept and I showed up with a large bag with cooking equipment to teach them how to cook an Austrian dish; a "Kaiserschmarrn". This was fun (though Japanese people hesitate to speak English making it difficult) and I had the opportunity to eat foreign dishes (Korean, German, Romania, USA).
On Sunday we went on a trip for event day despite the event the previous day.
Himeji Castle is one of the finest pieces of Japanese Castle landscape. It was the first Japanese site declared as UNESCO World Heritage Site. Wikipedia introduces it as follows:
Himeji Castle ( 姫路城 Himeji-jō) is a hilltop Japanese castle complex located in Himeji, in Hyōgo Prefecture, Japan. The castle is regarded as the finest surviving example of prototypical Japanese castle architecture, comprising a network of 83 buildings with advanced defensive systems from the feudal period. The castle is frequently known as Hakuro-jō or Shirasagi-jō ("White Egret Castle" or "White Heron Castle") because of its brilliant white exterior and supposed resemblance to a bird taking flight.
— Wikipedia's Himeji Castle article
It was built in 1333 and extended several times. Being an ancient castle still standing upright means that it also proved earthquake resistance. Wikipedia remarks,
In January 1995, the city of Himeji was substantially damaged by the Great Hanshin earthquake, but Himeji Castle again survived virtually undamaged, demonstrating remarkable earthquake resistance. Even the bottle of sake placed on the altar at the top floor of the keep remained in place.
— Wikipedia's Himeji Castle article section History
We went there on a Sunday. We were aware that on this day rain was forecast. We arrived in Himeji after a 970 Yen trip with JR (Japanese Railway) from Sannomiya (Kobe). Himeji Castle is close to its train station (roughly 1.3 km). The street leading from the train station to the Castle is very broad. It was interesting to see the shop on both sides of the street. Furthermore momiji viewing is still a thing and I could take a wonderful photo of some autumn leaves (not sure which tree):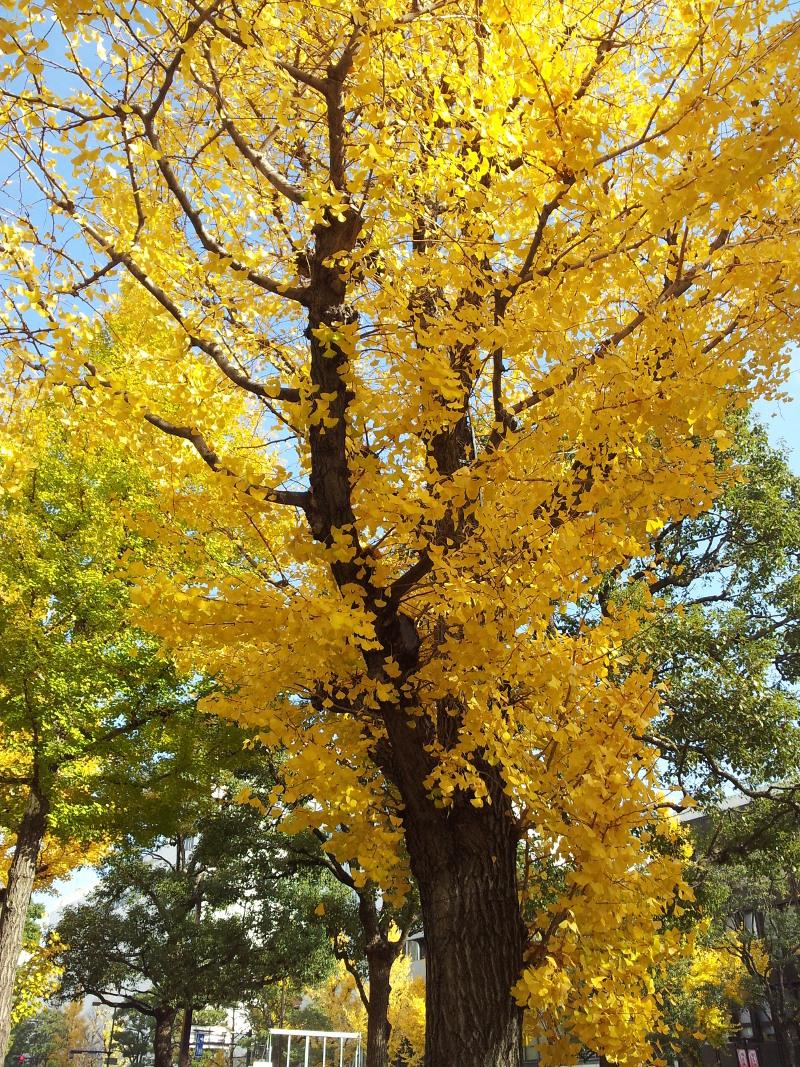 We saw some Freestyle BMX bikers doing some tricks and watched them as part of a large audience. In between we went to the toilet and checked out the booths nearby. They offered small snacks and Martina bought French fries. We went back watching the bikers. Sadly one biker lost control of his bike and the bike rushed into the audience on its own. A small child got hit, but as far as we can tell no ambulance was required. Besides that incident it was an entertaining event. We continued to go to the Himeji Castle.
We entered the site and bought combined tickets for Himeji Castle and Koko-en Garden (1040 Yen). Koko-en Garden is located outside the moat surrounding the Castle. We decided to visit it later. First we visited the Long Connecting Corridor (Hyakken Rouka) and were introduced to the history of Himeji Castle. We saw an ancient rice "cooker" and previous states of the site. It is also interesting that several point provide Augmented Reality features. First you need to download an app. Then you start the app and select the self-guided tour menu item. In front of designated AR points, the camera will recognize the stand and switch to a different view. Typically it shows a video, but inside the Pagoda, it also shows the contours of the pillars supporting the pagoda. It helps you to visualize the supporting pillars, but you can screw up the visualization easily by moving too fast. This AR experience was a nice feature of the site.
Continuing through all the different gates featuring tiles with feudal family crests on top (visible in a blogpost by inouetakahilog), we eventually reached the Main Keep (pagoda). It has six floors and a basement. Going up the stairs is difficult, because the steps are very steep, you are accompanied by a large crowd of people and you need to take care of your head. I found the weapon racks interesting. They are used for guns and swords. Furthermore some rooms were specifically designed for ambush in case somebody tries to take over the castle (which never happened). We finished our visit of the Main Keep and went outside again. Now it has begun to rain. We lost motivation to spend much more time there. We watched workers renewing parts of the Castle and checked out the Sangoku-bori Moat. We didn't visit the gates and towers in the East of the site. We left the site and also skipped Koko-en Garden. Martina wanted to continue her studies and the view was foggy anyways.
We spent 4 hours in Himeji in total and 2 hours inside the Castle site. I think the design of the Castle is really remarkable, but because of the rain it feels like we missed some part. We were wondering whether we will return again.