Jidai Matsuri in Kyoto
※ This article discusses the 22nd of October 2016.
Kyoto is Japan's former capital city of Japan. It served as Emperor's residential place until 1868. During Meiji Restauration, Japan opened up to the Western world and relocated its capital city to Tokyo. Kyoto remained an ancient city offering many traditional place to remember of the old days. If you want to go sightseeing in Kyoto, it is commonly suggested to stay at least 3 days. We agreed that it is a beautiful city to discover with many interesting places.
Jidai Matsuri is one of the three large annual events in Kyoto. In the parade people dress up in authentic costumes representing Japanese eras chronologically. The event is held since 1895.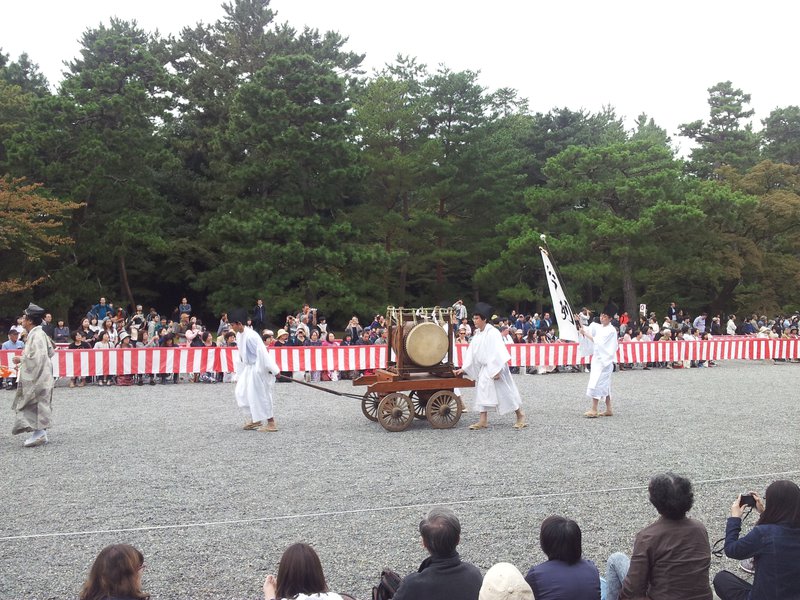 Because Mitchell took care of the organization, we actually started with event day in the early morning. We left the residence at about 7:45 and picked Hankyu line to go to Kyoto. 690 Yen is less than I expected. We left at Kawaramachi Station, which is already pretty close to where the Parade will start. We recognized very soon the increased amount of people wearing Kimono. Oh yes, they can be very beautiful!
Because we expected the Parade to take place between 12:00 and 14:30, we decided to pick up some food from the conbini beforehand. We ate it and watched people going along Kamo river. We headed towards the Imperial Palace. We saw more and more people heading towards the Parade. We also saw many closed streets with blocks of seats and allocated space for the Parade. If you reserve some seats for ~2000 Yen, you can have a place assigned to you and watch the people passing by, in costumes, while sitting in the front of you.
We waited until 12:00 for the Parade to start. Many foreigners and also locals with family gathered to watch the event. Especially at the beginning many people waited for it to begin though it was not that crowded. They waited behind the boundary line for it to start. Small kids not being allowed to go to the front were obviously bored. I enjoyed watching them. I think Japanese kids are more active but make less noise (less shouting, less crying).
And finally the first group of Parade participants came along the path. They started with the most recent costumes and ended with old garments. Because my Japanese is not good enough and the loudspeakers were no hearable at our position, I couldn't follow which era they represent. People with reserved seats got a flyer with additional information, but I wasn't able to get such a flyer. But certainly it was nice to see historical Samurai garments and the clothes looked impressive when the person was riding a horse. We approximately one hour our friends changed position and we followed them towards the Imperial Palace where groups start to march. At this position we were closer to the Parade people and could also hear the loud speaker. Though it was exhausting to stand all the time, if you switch positions, take some rest for short times and do small walks, it is endurable. I was glad, that the weather was fine (cloudy but warm). However, it was at that time our friends lost us and they didn't recognize we changed position together with them (as they explained us later).
When the last group left, people immediately started to discard the boundary lines and switched from one side to another by foot. We considered following the last group by foot. However, it got very crowded and we got trapped in a vast crowd pushing in opposite directions. At an intersection we gave up. Originally I wanted to see the Imperial Palace (where groups start) and the Heinan shrine (where groups end), but it was impossible to go close to Imperial Palace (as groups dress up there and it is shielded therefore). Considering the large crowd of people pushing us in certain directions, it was too annoying to follow the last group for an estimated hour. We gave up.
We went back to Kamo river, enjoyed the afternoon eating some Pringles and took the train back to Osaka. We wanted to find some sport shoes for Martina's volleyball training. We didn't know any specific shop in Osaka, but I remembered shopping centers I discovered previously. As it turns out, we found many shops offering handbags, shoes and clothes. But we didn't find any shop for sport shoes which we assumed can be found in sport equipment shop. We gave up on this issue as well after visiting many places in Osaka. We were very tired on our train ride back to Kobe, but we continued our search in Kobe as well. However, we were not really motivated and aborted our search very soon again.
Without sport shoes but nice memories of Kyoto, we returned back to the residence. It was a nice event day full of colorful garments and people wearing Kimono. Yes, it was the first time I really missed Felix' camera with its 30x zoom. We walked approximately 10 km within Kyoto.