Hiking to Mount Rokko
※ This article discusses Thursday, the 3rd of November 2016.
On Thursday, we are usually busy at university. However, this Thursday Japan celebrated the Day of Culture (Bunka no hi, 文化 の 日 ). So we had a day off. Because on Saturday, we only have a workshop in Calligraphy, we wanted to add something else to this week. Martina and I agreed to hike on Mount Rokko ( 六甲山散歩 ). So we start at sea level and will hopefully reach the summit 930 meters above the sea level. We left the Residence at 09:00 in the morning.
When hiking on a mountain, you should always carry some basic belongings with you. This includes:
Water

I took 2 liters with me. You can also buy it at a Konbini close to Ashiyagawa Station.

Lunch/snacks

I took some bread for lunch with me.

Clothing

Be sure to be prepared for rain or strong winds. I was prepared with 4 layers of clothes.

Sun blocker

If the sun is very strong on your hiking day, a sun blocker can be beneficial especially at the beginning before you enter the woods. It was not necessary for me.

Tissues

If your nose keeps running.

Money

If you want to drink some tea at the teahouse or possibly you need it for the toilet (I didn't need it and cannot tell). Close to Arimaonsen, many delicious snacks are available in booths. So be prepared if you are open to spend some money.

Towel

After hiking, you will enjoy to put your feet into the public bath of Arimaonsen. You don't need a ticket and it is very close to the street. So take a towel with you.

Camera

You will experience some nice views over Osaka and Kobe.

Gloves

If you don't feel very safe when stepping along, you will often use the rocks to gain balance. Japanese people therefore (and because of the sun) prefer to wear gloves. I didn't.
We took Hankyu Line to Ashiyagawa Station. Coming from Kobe, this is 3 stations more than Rokko; the train station we use for university. In general it is a good idea to hike on a public holiday, because Japanese people love hiking (I think even more than we Austrians). As such you are not left alone and can already spot some hikers in the train. They can (and will) always help you if you don't know the direction. At about 10:00 we left the train station.
Ashiyagawa is not really a river, but rather a stream. As pointed out in other travel guides, stay on the left side of the river as long as possible. First you will hike through a neighborhood and follow a road. Then the road goes into the woods. Signs warn you about wild boars. So just pay attention not to disturb wild life.

Consider to use the last available public toilet ( 公衆便所 ). Afterwards you will need very elementary climbing skills at some points.

First you should see Rock Garden. Accidently we picked the wrong path and we cannot even tell where we should have gone. Sorry, no further information.

The next place you should reach is "Kaza fuki iwa" ( 風吹岩 ). You can have a beautiful view over Osaka. The coast of Kobe is not mostly not visible due to bushes and hills in the front.

You will enter the woods. So you won't need the gloves any more. Enjoy the smell of the woods.

You should reach the Honjo Bridge ( 本庄橋 ) next. As far as I can tell the Honjo Bridge should be large dam you encounter. If not, it is the tiny bridge before you reach the dam.

Finally "nana magari" is one of the steepest section. Yes, it is the steepest, but because there are only few obstacles, I didn't have difficulties to go up in any way. The beginning with all its rocks was more uncomfortable.

Rokko Mountain summit ikken-chaya ( 六甲山頂一軒茶屋 ) is a tea house very close to the summit. A road from the Kita ward leads here.

After a few hundred meters, you can take a picture of the summit pole and enjoy the view.

Going down on the other side of the mountain, you will go towards Arimacho; a village hosting Arimaonsen. The path is rather uninteresting. No beautiful view, no interesting stops and cold because in our case the mountain covered the sun.

At Arimacho, it is very difficult to find Arimaonsen and the train station. Prepare with a map or follow/ask your Japanese colleagues. Enjoy the delicious snacks and small shops in Arimacho.

Enjoy a free footbath at Arimaonsen. You might need to wait a little to get a place.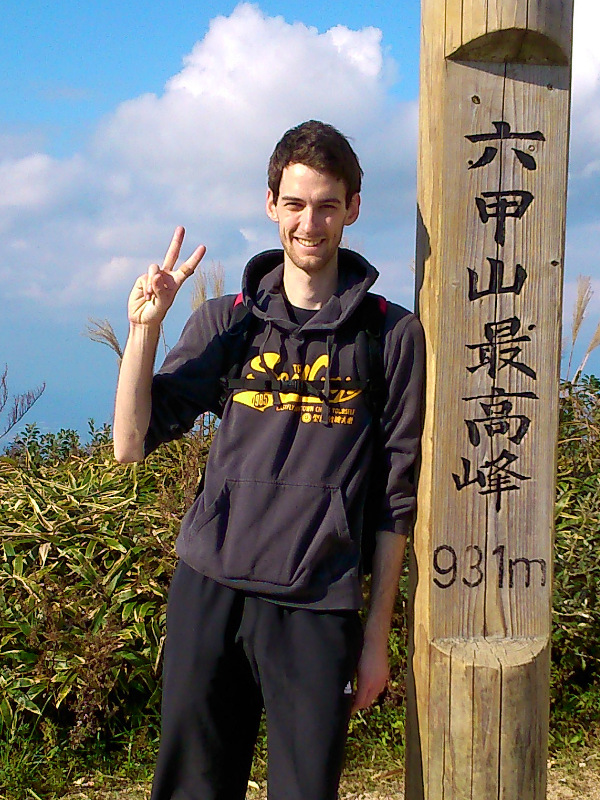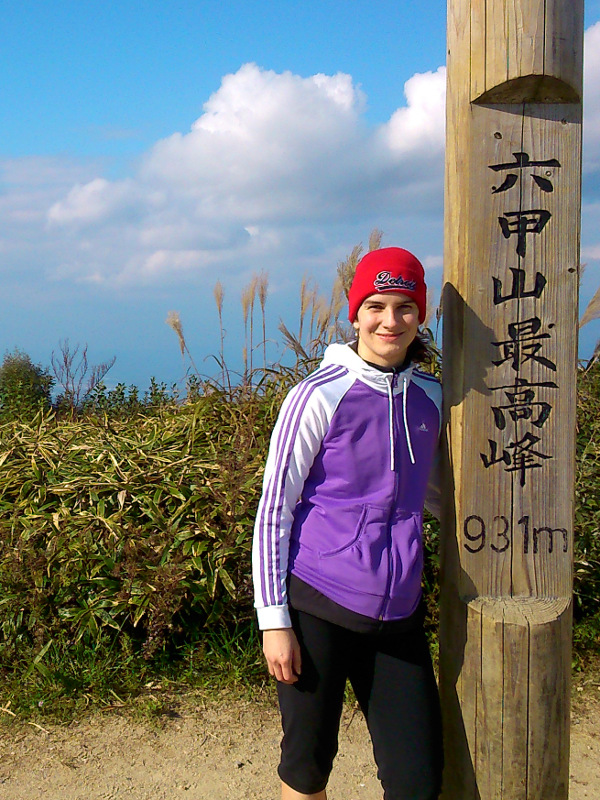 After about 1.5 hours, we reached Kaza fukii wa. Another 1.5 hours later, we reached Honjo Bridge. It took us 1 final hour to reach the summit. In conclusion, we hiked for 4 hours up the hill and 1 hour 20 minutes down the hill. It think we were very slow up the hill, but downwards we reached average speed. So prepare for a journey of more than 4 hours.
At Arimacho we actually met our English teacher. We was showing his uncle (he mentioned in class) Arimaonsen. The uncle spoke a bit of German to us.
Hiking for the first time. That was fun!