Nunobiki Waterfalls
※ This article discusses the 28th of December 2016.
Plan
On 28th of December 2016, we decided to go out and visit some points of interest. Our original goal was Kitano-chou. Most international students covered that POI already in October and it is particularly boring for European students. However, I didn't want to back off and made it our main goal. Afterwards, I had several options available.
Shin-Kobe
Well, we began in the later morning and went to Sannomiya. We crossed some main streets of Kobe to reach Shin-Kobe. Shin-Kobe is the Shinkansen train station in Kobe. It is closer to the mountains than Sannomiya. Inside the train station, you cannot see the trains. We just saw that almost all passengers of Shinkansen have a large suitcase meaning they are travelling for a longer time (than one day). Furthermore the train station has many shops offering local foods (Bentos and waffles). We left the train station afterwards.
Takenaka Carpentry Tools Museum
We briefly took a peek on the Takenaka Carpentry Tools Museum. I was not interested on the exhibition, but wanted to see the entrance. It has a nice Japanese style and wanted to show it to Martina. Underneath the bridge nearby, Shinkansen were waiting for passengers and we made some photos. So I had my experience to see a Shinkansen for the first time in real life. I asked Martina whether she wanted to see a waterfall. She said yes.
Nunobiki Waterfalls
We followed the streets behind the Museum. Students crossed our way as they seem to leave their dormitory during the holidays. We eventually reached the observatory platform ( 展望台 ) to have a nice view over Kobe. We were very motivated for hiking, so I guess Martina would have agreed to turn this into a hiking trip. However, I was not prepared at all for any paths we had to take, my lunch was a single sandwich and I forgot to charge my phone. Bad conditions and I recommended to shift the next hiking trip to another time. By the way, our plan to hike onto Mount Maya was rejected by her the night before.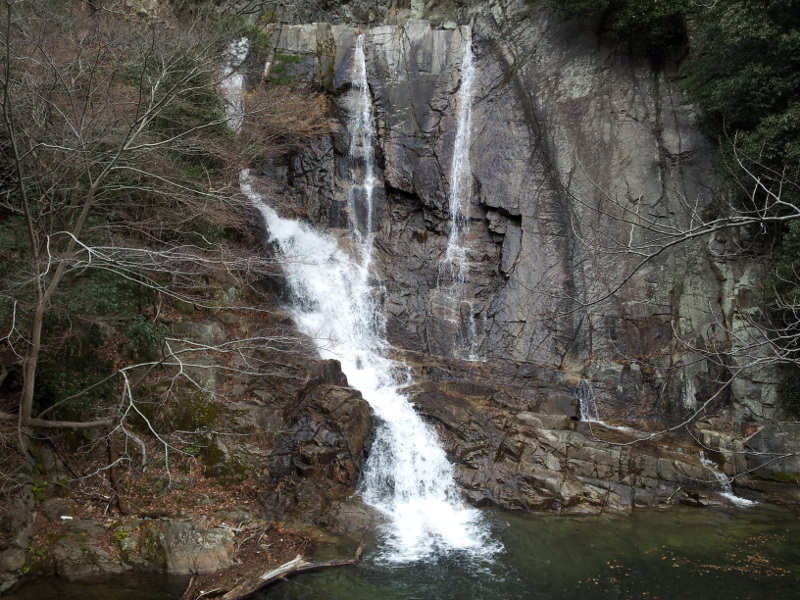 We continued in opposite direction of the water stream and saw larger and larger dams. We even found a hydroelectric power station in front of the largest dam and I had the chance to take a photo of the Nunobiki waterfall everybody is associating with it. At the dormitory I found out that many students don't even know of its existence. In general I think hiking is not so popular. Martina wanted to continue, but I declined because I wanted to also see Kitano Chou. We hiked back. We tried to pet a black cat crossing our way, but most Japanese cats are shier than European ones. Furthermore we saw some more students leaving the dorm.
It was a really pleasant, brief hiking trip to nature. It has to be continued at some other point in time. Martina got more and more hungry.