Tokyo Metropolitan Government Building & Shinjuku
※ This article discusses our arrival in Tokyo on 17th of March 2017.
We took the night bus from Kobe to Tokyo. The night bus by the Willer express company has a separate waiting area. We arrived in the waiting area (which in some side streets in the center of Kobe Sannomiya) and a staff member guided us to the bus stop close to the street. 5 minutes before departure, you should go directly to the bus stop at the street. The bus departured at 21:45.
The seats are actually very comfortable and my legs had enough space. However, a cover above your head protects you from the light of the bus, so you can sleep better. And this cover was too low for me. So my head rubbed the top of the cover all the time and it was difficult to sleep. I woke up several times during the trip. On our trip we also had an intermediate stop in Osaka and at 3 roadhouses.
We arrived in Tokyo, Shinjuku, at 06:35 in the morning (hence the duration was 8 hours and 50 minutes). Very tired, we went to the tourist information. We grabbed maps and asked for luggage storage options. They offer to store luggage for 800 Yen per day per item. We stored our two large bags and began our journey. By the way, we made an expensive decision. Our luggage would have fit together into one of the 300 Yen lockers per day; instead of paying 1600 Yen. However, the tourist information center was a convenient offer for our luggage.
In Tokyo, you can find many Starbucks and Tully's Coffee stores. We went to Starbucks close to the train station. These coffee houses generally have very little space, because they are so popular and more customers bring more money. However, in Japan, this is taken to the next level. Your luggage has no space at all. I consumed a drip coffee and "American chocolate scone". Martina drank a cocoa. We wandered around in the south of the station. We decided to visit the Tokyo Metropolitan Government Building first. On our way to this building, the government buildings nearby clearly showed how proud the Japanese government is of hosting the 2020 Olympic and Paralympic Games.
The Tokyo Metropolitan Government Building (TMG) is famous for its observatory on the 45th floor. It gives a nice view over Tokyo. It is free, but you need to pass a luggage check. I really don't get why Japanese people like luggage checks, but I guess terrorism justifies as many things as you like. In the obseratory, we started to learn that Tokyo is much wider than Kobe or Osaka. It is also more flat, but more skyscrapers can be found in the downtown. Before it is a famous place for tourists, this floor also offers many tourist items such as snacks or T-Shirts for various prefectures of Japan. The visit was worth it and a good start.
Niagara Falls - in general - can be found on the border between Canada and the US, but in our case it refers to the park with waterfalls next to TMG. We visited the park, because the waterfalls looked nice when we peeked from the observatory. We observed some elementary school graders. I think it is quite commonly known, that in Japan kindergarten and elementary school students use the same caps when they go on a school trips. For example, this is visible in a TED talk by Takaharu Tezuka about "The best kindergarten you've ever seen". I think this is convenient to identify children that belong together if you are in a public space. Some young people (probably at the age of 17) were rehearsing some play. They changed between discussion and agressive behavior, which made us uncomfortable until we recognized they practice for an acting class.
After taking a peek into Kogakuin University, we looked at Cocoon Tower. They are all located nearby, making the district a quick and convenient sightseeing spot.
At lunch time, we got hungry, but we skipped lunch for now. Instead, we headed for our next goal: Shinjuku Gyoen National Garden. The garden is quite large and you have to pay an entrance fee of 200 Yen. These yen were worth it. The park is well-maintained. We saw quiet place in the shadow as well as green areas to take photos at or play small games. I think the garden is considered as a place of relaxation among Japanese people. Just like many other foreigners we took photos of the first blossoms in spring and we also had fun to pose in front of the smartphone camera: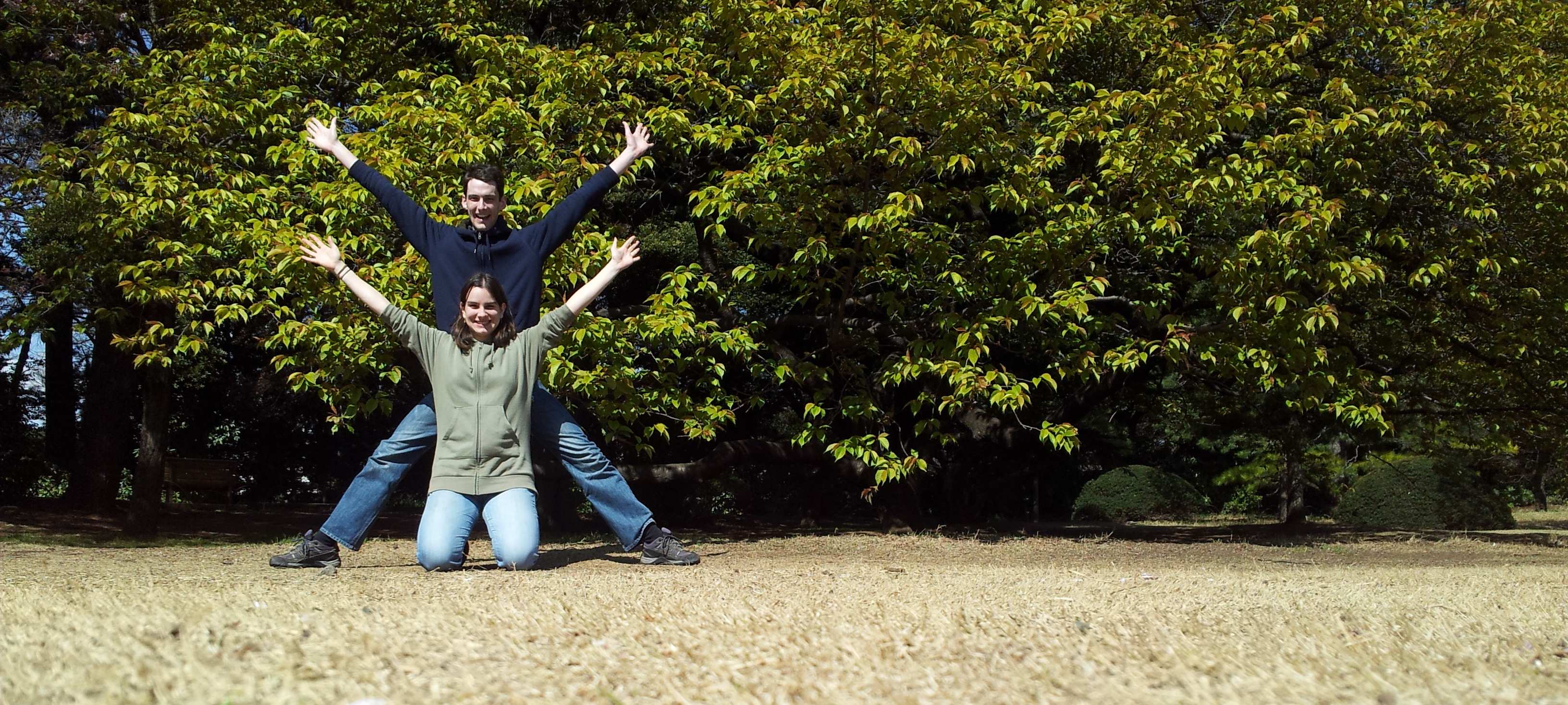 To retrieve our luggage, we had to go back to Shinjuku station. On our way to the Park, we saw several Soba restaurants. On our way back, we picked one of them and ate some Soba. This was also the first experience, that people in Kantō are more used to tourists and the (elderly) staff members spoke fairly good English. In Kansai it is often difficult to get along with English.
We retrieved our luggage and went to the Hostel. The Anne Hostel Asakusabashi is located close to the center of Tokyo. We booked about two weeks in advance and they expected our arrival at 16:00. As in many hostels you can find information about popular sightseeing spots inside. The staff speaks perfect English and Japanese. The foreigners tend to interact a lot. But one uncommon rule was important in this hostel: No drinks and no food allowed inside the rooms, except for plain water.
We put our luggage in our room and bought water and snacks for the following days. In the evening, we met one of Martina's Japanese friends. She was coming from work and we ate in a Chinese restaurant. After dinner, we went to sleep as we were very tired because of the last night.
Do you want to know an interesting difference between Kansai and Kantō? Japanese people drive their car on the left side, but people in Kansai stand on the right side of the escalator. In Kantō, people stand on the left side on escalators. The blog post about the Escalator Conundrum by Osaka Insider discusses this issue.