Todaiji
※ This article discusses our Todaiji visit on 19th of February 2017.
It's really difficult to get up early in the morning. We obviously experience how four Aikido/Volleyball practices per week feel like. We generally enjoy long mornings on days without deadlines. Even though we wanted to leave at 09:00, we could not do until 11:30.
We took the train from Sannomiya to Motomachi. Then a train from Motomachi to Amagasaki. Usually, I do proper research beforehand and we know which trains to pick, but this time we decided spontaneously the night before to take this trip. So I just used the information of the HyperDia Android application and picked the cheapest among 5 ticket combinations. However, this trip to Motomachi was a waste of money, because the second train went back to Kobe-Sannomiya anyways. I guess in the future I will this through better. In Amagasaki, we left the train and recognized very soon that our next train is the previous train. The train continues with a different name, but it was the same train. Back in the train again, we left Amagasaki in direction of Kintetsu-Nara, which is our destination in order to visit Todaiji. We spent 1180 Yen and about 90 minutes in order to go there from Kobe-Sannomiya.

Leaving JR Nara station, you can immediately see Sanjodori Street. This street features a lot of restaurants and booths for food. It was the first time in Japan, I saw a Kebap booth. In Austria, we have lots of Turkish migrants opening such shops, but in Japan this is obviously rare. Even though I expected us to grab something for lunch, Martina could not find a proper restaurant. We reached the Three-Story Pagoda next to the street, but I failed to take any photos. A Japanese talked to us and introduced himself as someone working for the Tourism office, which is located nearby. He lead us there and offered us to make Origami deers. He was nice, but reminded us of a marketing agent. A lady in the tourism office taught us how to make a deer and it took 20 minutes to finish it. Depending on the day, they also offer basic calligraphy workshops or chopstick challenges. I think if you want to spend a day at Todaiji and have no guide, a visit is certainly worth it. They also gave us a nice map of the area.
We left in direction of the Nandaimon Gate ( 南大門 , なんだいもん) and met the main attraction of the area: A lot of deers gather in the streets in order to wait for food bought by the tourists. For 150 Yen, you can buy several round waffle-shaped deer food. The deers are wild animals, but gentle. Their horns are shortened to avoid accidents in the area. They have also been taught to bow in front of the tourists. So if you hesitate to feed them, they will bow in front of you waiting for your offer. This is documented in Youtube videos like "Nara's bowing deers". The Gate was a old wooden construction and inside the gate's log a large statue can be found on each side.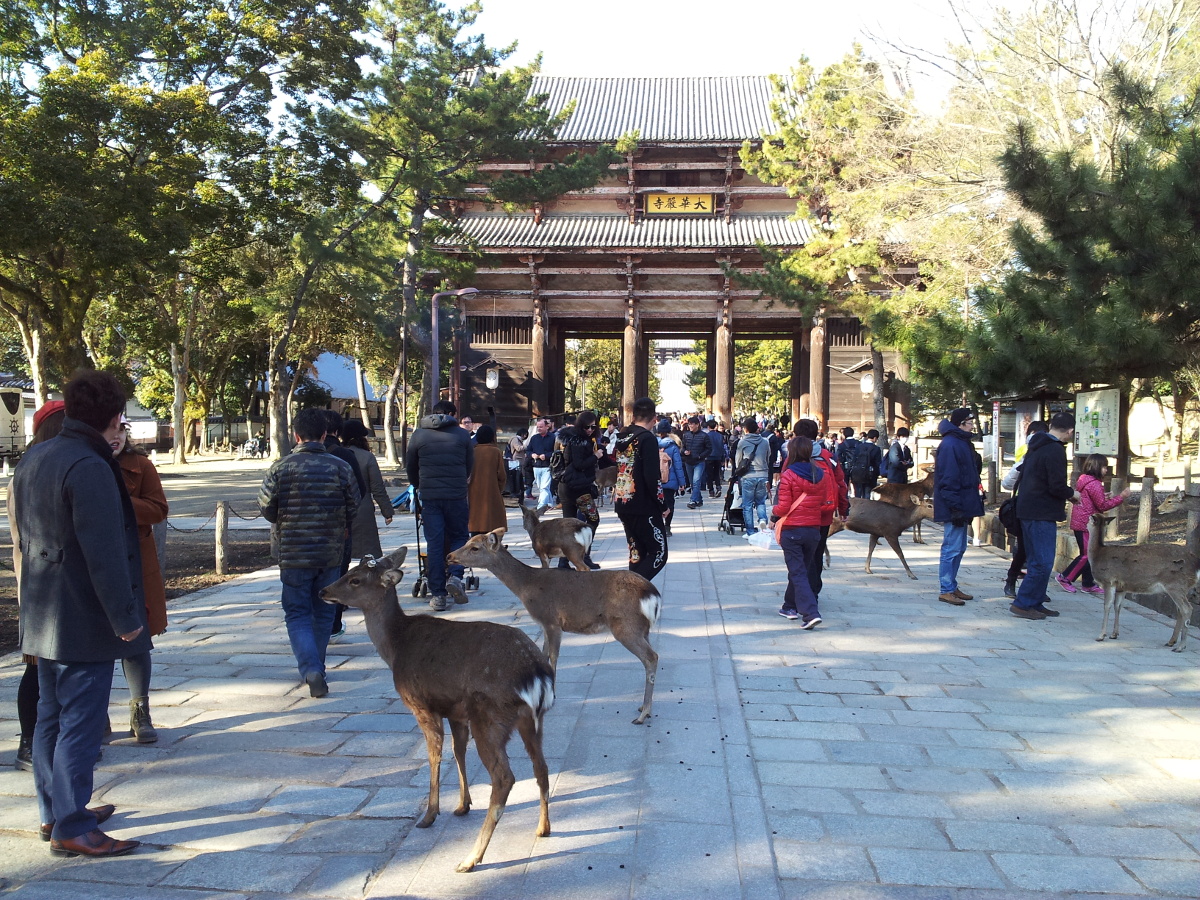 Daibutsuden ( 大仏殿 ) is the heart of the Todaiji Temple. We visited it next and it is famous for the largest bronze statue of the world. However, inside Daibutsuden it is quite dark and it was terrible to take any photos. The size of the statue (about 15 meters in height) is of course impressive. After this visit we set down to take a short break and ate a snack. However, the deers joined us and got curious. One deer chewed on my napsack's strap. We interrupted the snack and continued to take photos of the Great Bell. It also seems to be made of bronze. No deers were visible and we quickly took a break. Once we were finished, a few deers spotted us and wanted to have their share of our snack. After a short toilet break, we reached Nigatsudo Hall, which gave us a nice look at Nara.
The sun was setting and the light was very nice. At the same time, it was quite cold in the shadow. I liked the colors of the building combined with the color of the bamboo sticks. I think the bamboo sticks protect the stone writings from tourists as they might be in restauration currently. We went back to Sanjodori Street taking a path crossing some more deers. We went in direction of Kasuga Taisha Shrine. The Shrine itself was closed. So we could not enter it and check out the house inside, but I admit it didn't look interesting anyways. It was merely the appearance of the Shrine and the many stands in the area, that made the place interesting to see. At the same time the sun has finally set and it got dark. I didn't take any photos of the Shrine because of the darkness in the woods. It was about 17:30. Back at the Three-Story Pagoda, we observed several deers crossing the street. They listened carefully and once no car was coming, they crossed the street.
We went back towards the train station, but first we chose a restaurant for a very late lunch. Martina ate Okinomiyaki and I chose a Vegetables-Oil-Yaki. On a stove inside the table in front of us, the Yaki was kept warm while we were eating. The vegetables were not much, but they tasted good. We finished and took a train home. This time, we knew about the train situation. We sat down in the JR train and directly reached Kobe-Sannomiya with one ticket. This was nice.
In conclusion: Nara is a touristic location and definitely worth a visit. I guess it is a wonderful trip for a family as far as children can also enjoy the deers. There are many shrines (Shintoism) and temples (Buddhism) in the area and we only saw the most famous ones. I suggest to spend a day over there and we should have left the residence sooner. Anyhow, it was a very nice trip! Recommendation!