Arima Onsen Irizome-Shiki
※ This article discusses the 2nd of January 2017.
Why? How?
Martina was notified about a request by Arima Onsen in her Japanese class at the beginning of December 2016:
Welcome to the most historic hot-spring resort in Japan. Arima-onsen has been famous since 6th century since "Tenoh" had visited here. In Arima-onsen, every year on 2nd January, residents of Arima-onsen cerebrate the beginning of the year with the celemony "Irizome-shiki", where they appreciate a shogun and a noble monk who help Arima-onsen develop.
For this special occasion, we recruit 6 male students, who wear traditional white robe and carry a portable shrine, and 3 female students who wear kimonos. After the ceremony, you can attend the traditional "Naorai" after-party with local residents, and then enjoy the first hot-spring in 2017.
— private email
We have not been to an onsen yet and we thought it would be a good opportunity to come into contact with locals in order to follow Onsen rules properly. Be aware that unlike most of the times where we are getting along together, an onsen is (in almost exclusively nowadays) separated in terms of sex. So it would be very nice to have very good male and female friends to go with them there. We saw this event as an opportunity and certainly we can help in return. Hopefully, we get a discount (or alike) for entering the onsen this day.
The event is called "Arima Onsen Irizome-Shiki" ( 有馬温泉入初式 or 有馬温泉 の 入初式 ).
Good morning
We arrived on time and waited in front of Onsenji for administrative staff to pick us up. Martina asked for necessary equipment to bring beforehand and they only mentioned, it might be very cold. So we should bring disposable hand warmers (or alike). We could not find some (without putting a lot of effort into it) in the usual supermarket, we visit. So we skipped it and I dressed up warm though the weather forecast was promising. Indeed the morning was cold, but not freaking cold. During the day 11°C are expected whereas on the other days of the week, the temperature will be between 6°C and 10°C. What a luck.
We were not the only ones. A Taiwanese woman from Martina's class also showed up. Another woman speaking Chinese joined in afterwards as well. 3 female students, but I remained the only male student. I guess the problem was that you have to register until 18th of December 2016 which is 2 weeks before. Many students don't plan that far ahead during the holidays. Anyways, male students were not so motivated and I remained the only one.
A woman showed up and asked us, whether we are "ryuugakusei". We agreed and I had to follow her to the men dressing room. Martina told me, they were taken to a different place and they screwed up the dresses, because my designated dress was in the women dressing room. This explains why it took them so long to search for my clothing. After receiving all clothing parts, another guy helped me to dress. It was a strange, white robe with a black hat. I felt like some sort of servant of the Shrine, I was at. In general the ceremony - I was dressing up for - is meant to bring good water to visitors for the coming year. It is organized by the Shrine located next and associated to Arima Onsen. A facebook post announced the event and the local press was well aware of this annual event.
The dress consisted of a Hakama, Tabi and Zouri. Sadly I cannot give the names of the other parts of the clothing.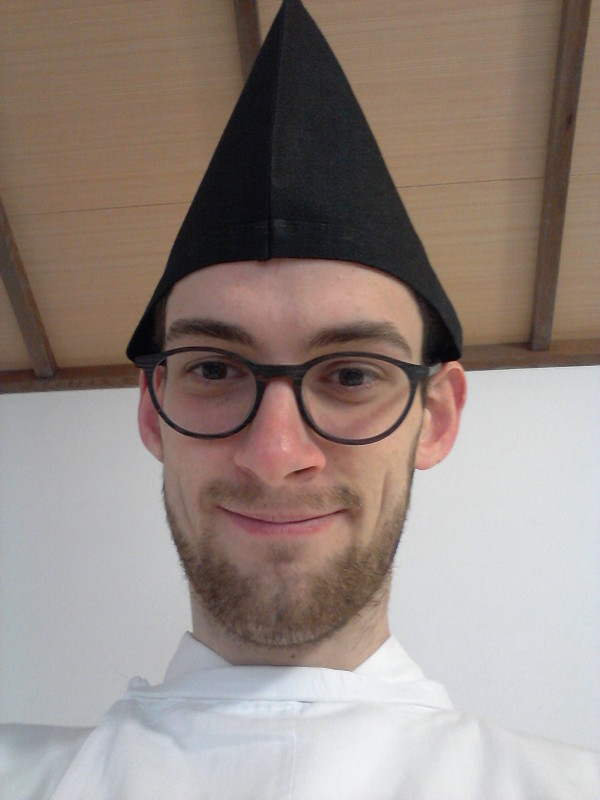 The Festival Procession
In front of the shrine, two palanquins were waiting for us (Mikoshi in Japanese). They had to be carried to the Arima-Chou Elementary school. After "Churning the Hot Water", "Throwing Water", the "Dance" and the "Purification Ceremony", we had to carry them back to the Shrine again. I carried the same palanquin both times. To the best of knowledge, it is the palanquin holding the wooden sculptures of the high priests Gyoki and Ninsai. Martina and the two other women had to follow some geisha and maiko. They were dressed up in uniform Kimono. After an initial speech the ladies lined up with the priest at the stairs in order to take some photos. Martina is visible on one instagram photo and one tweet this point. We had to carry it down the stairs, followed by a lot of streets. The general problem for me was of course the height. My colleagues carried the beam on their shoulder. This is much lower for me and I had to use my hands. On the first path heading to the elementary school, the guy in front of me was not very helpful. He neither cared to carry nor was he walking in line. I stepped on his Zouri several times accidently.
Many people watched us on the street, obviously. One side of the street was blocked for us.
Churning the Hot Water, Throwing Water, Dance and Purification Ceremony
The ceremony inside the school was Japanese culture in its purest form. For example:
Since the procession we were accompanied by melodies played on flute-like instruments. The tunes were harmfully dissonant.

Few representatives gave a speech.

Somebody mentioned "ryuugakusei" several times. So I recognized that they might be talking about the 4 of us. However, I had no clue what to do until my seating neighbor tabbed me and told me to "Stand up!". I stood up and bowed. Martina told me, I saved them because they also had no clue and stood up and didn't know what to do. Bowing, while people were clapping, saved the situation. It was very awkward. Well, this is the language barrier.

They called every single administrative person. The person bowed in front of all other people, went to the water basin, bowed, clapped her hands (as common in Shintoism), bowed and put some water over the shoulders of a statue.

The priest and his apprentices sang very strange song.

They poured the "first" hot water into a wooden bowl.

The "Dance" was also of low quality, but I guess this is acceptable for a small village. Not sure how often geisha/maiko perform such ceremonies. It always hurts to see how women can almost not move in Kimono. The lower end is very tighht. So you cannot make normal steps with a Kimono.

The Purification Ceremony was just ridiculous. The priest spread some rice on mats and the geisha/maiko had to collect it with young pine. In their clothing it was ridiculously difficult and young pie is completely inappropriate for it.
Returning
On our way back, the student in front of me introduced himself and told me, he is studying Spanish language at Kobe University (it made me recognize that most other people could also be students). He translated when we were told to run. So at the street in the center of Arima-Chou, we had to run up and down three times. This just part of the tradition. As far as I am concerned I started to sweat a lot, because the palanquins felt heavier during the run. This part was fun though. Apparently I also attracted the attention of a photographer. He took a lot of pictures of me. I was the only male foreigner. I was the only young one with a beard. I was much taller than everyone else. On this way, the only picture available online of me was taken. Look at the most-left person on this instagram photo.
Arriving at the Shrine, we changed back into our usual clothes. The Spanish student waved goodbye with a "Otsukare samadeshita" (Take care!).
Lunch
All helping people leaving received a Bento box and Ocha as present. However, I was asked to follow some other guy. He was kind and wanted to find out basic facts about Austria. Another helper was with us. We entered a hidden room. All representatives and administratives were eating there and I bowed in front of them. Apparently they welcomed me to join their meal. I was also offered a Bento box and Ocha or beer (I picked the former). The Bento box contained a lot of fish. I didn't want to tell them to be a vegetarian in order to avoid them troubles. So I ate what looked vegetarian and certainly the rice side dish always is. I described a lot of things about Austria and the German language. They tried their best and it was fun. Martina called me as they were lost. After some time they were also guided to our table to join the lunch. With more international people available, communicating became easier. A much larger knowledge base for Japanese vocabulary was available. I learned that a specific type of sea weed is called kelp. We were also offered some Hatsukuru, a popular Japanese sake.
Finally, we were given an Buddhist amulette. We waved goodbye and were back in front of the Shrine.
Aftermath
We wanted to finish some sightseeing. First the other internationals joined us, but suddenly they left. So we took some pictures of the places we wanted to see (admittedly, it was me). We finalized our trip with a foot bath. Unlike Martina, I did not take the public foot bath at Kin-no-yu ( 金 のゆ) yet. We had fun interacting with an elderly person. She had a thermostat with her. The outside temperature was 14°C there and the water temperature was 40°C. It is reported to be 42.3°C according to a board. Anyways, we had small chats and she made a picture of us: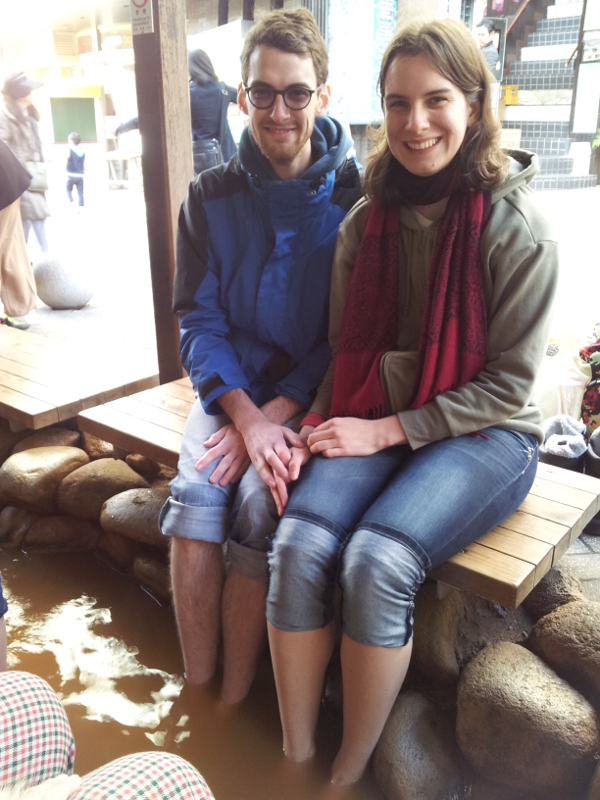 So, we still have not been inside the onsen. However, we got a free lunch and it was a pleasant experience. I guess you cannot get closer to Japanese culture than this.